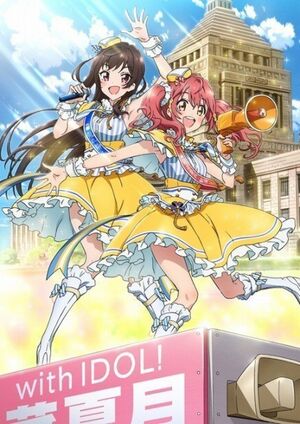 The Idol Incidents anime adaptation was produced by MAPPA and Studio VOLN. and broadcasted on Tokyo MX and BS Fuji from January to March 2017.
Plot
In a parallel Japan quite similar to the modern Japan we know of today, it has plunged into a dark era of political conflict. Increasing income divide, creeping environmental pollution, unsolvable garbage problems, childcare waiting lists being disputed while those directly involved aren't present, repeated cases of corruption... Japan's government, entrenched in its own vested interests, can do nothing about the abundant problems and discontent throughout the land.
Now, at long last, idols are taking a stand to rescue a nation with no way out! Seven idol political parties who have become Diet members representing each prefecture will crash through the sense of stagnation that surrounds Japan with their song and dance! They will bring back the people's smiles and envelop Japan in their shining aura!
Staff
Director: Daisuke Yoshida
Series Composition: Naoya Takayama
Music
Insert Songs
BD/DVD Guide
Cover
Media Contents
Extras

Incident 1: Why Become a Dietwoman?
Incident 2: Girl S
Non-Credit OP/ED and CM
1 First Press Ticket for the "Idol Jihen 2nd Stage ~ Sing! Love's Commitment" Summer 2017 Event.

Date: July 1, 2017 (Saturday)
Location: Tokyo Dome City Hall
#
Title
Insert Song
Air Date
1
私が国会議員になっても

Watashi ga Kokkaigiin ni Natte mo Why Become a Dietwoman?

Start up, Dream!!
01-08-2017
With the sudden passing of the Niigata representative Tonomura, his seat in the Diet is up for grabs. Clumsy country girl Natsuki Hoshina signs up for the position, running under the Heroine Party.
2
少女S

Shoujo S Girl S

Hatsumi~☆Sunrise
01-15-2017
Natsuki wants to help Ryusekidou Chinatsu of the Sunlight Party fight off pollution in her hometown, but she has a bit of a complicated history with Onimaru Shizuka.
3
NYANWAY 世代

Nyan'u~ē sedai Episode 03 - Nyanway Generation

It's All Star☆Right彡
01-22-2017
The children of Nekonoshima write a letter to the Heroine Party, telling them that all the cats except one have disappeared.
4
ゆ・れ・て湘南ビーチ

Yu rete Shōnan bīchi Episode 04 - Shake it! Shounan Beach

Honey Moon Cafe
01-29-2017
The Heroine Party has decided to join the annual swimsuit competition, as well as the team who emerged victorious last year- the Bishoujo Party.
5
保育園天国

Hoikuen tengoku Episode 05 - Nursery School Heaven

Green Fairy
02-5-2017
At the Kamekame Nursery School, the children have held the Wakabe Party hostage and Chief for the Day Natsuki rushes to help!
6
TOO SHY GIRL!

TOO shai gāru Episode 06 - TOO SHY SHY GIRL!

Gamushara彡Girl
02-12-2017
Mika Kozuru of the Subculture Party proposes a plan to open the observation room of the Diet House to the public. However, the Rougai Party opposes to this and they need the Heroine Party's help! But first, they need to solve the ghost issues... with the SOS Party.
7

飾りじゃないのよマイクは Kazari janai no yo maiku wa Episode 07 - My Microphone Isn't Just for Show

-
02-19-2017
8

MISSしてロンリネス MISS shite ronrinesu Episode 08 - Miss Then Loneliness

-
02-26-2017
9

議員服と機関銃 Giinfuku to kikanjūu Episode 09 - Congressman Clothes and Machine Guns

Start up, Dream!!
Kirameki no Symphonia
03-06-2017
10
ダンシング・ヒロイン

Danshingu hiroin Episode 10 - Dancing Heroine

-
03-13-2017
11
MajiでLiveの5秒前

Maji de Live no 5-byō mae Episode 11 - Seriously Live in Five Seconds

Start up, Dream!!
02-20-2017
12

なんてったってアイドル議員! Nantetta tte aidoru giin! Episode 12 - It's All About the Idol Dietwoman

Start up, Dream!!
Tokimeki Full Throttle
Sing! Commitments of Love
03-27-2017
References
Community content is available under
CC-BY-SA
unless otherwise noted.